Convoy of Hope Fund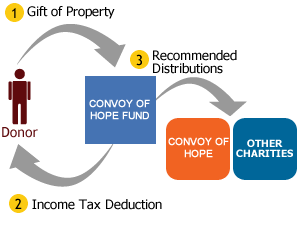 A simple way to give hope throughout the world
How it works
You irrevocably transfer cash, securities, real estate or other assets to the Convoy of Hope Fund.
You recommend grants to Convoy of Hope projects and other charities on your timetable.
You receive quarterly statements summarizing investment and grant distribution activities.
You relax and focus on your charitable goals while Convoy of Hope handles all the paperwork and administration.
Benefits
An immediate tax deduction.
No capital gains taxes when you donate long-term appreciated assets.
A gift of appreciated assets can be easily distributed to numerous charities.
Grants can be made over months or years.
No administration hassles. Convoy of Hope handles all of the details for you.
Grants can be distributed anonymously.
For more information
Please contact us so that we can assist you through every step of the process.